Am Mittwoch, 11. September 2014, luden das European Brand Institute und die Verlagsgruppe News in Kooperation mit der US Embassy Vienna, ÖBB und OMV zum 2. WOMEN LEADERSHIP FORUM unter dem Motto "FRAU.MACHT.FÜHRUNG" ins Novomatic Forum in Wien.
Die Eröffnung nahm US Botschafterin Alexa Wesner vor und unterstrich die Bedeutung von qualitativen Netzwerken und Entrepreneurship.  Novomatic Konzernsprecher Hannes Reichmann wartete in seinen Eröffnungsworten mit der erfreulichen  Nachricht auf, dass der 5-köpfige Novomatic Aufsichtsrat erst kürzlich zugunsten weiblicher Mitglieder erweitert wurde und erstmals mit 3 Frauen weiblich dominiert wird.
US–Leadership Guru Sally Helgesen begeisterte die, vorwiegend weiblichen, Business Leaders mit ihrer Keynote und lieferte wertvolle Inputs, wie "Frau" sich für künftige Führungsaufgaben rüsten und etablierte " female leaders" ihre Position stärken können.
In ihrem Impulsstatement gab Jackie Duff, Strategic Project Director Women's Economic Empowerment,  einen spannenden Einblick in die globale "5by20 Initiative" der Coca Cola Company, die weltweit Frauen als Unternehmerinnen fördert.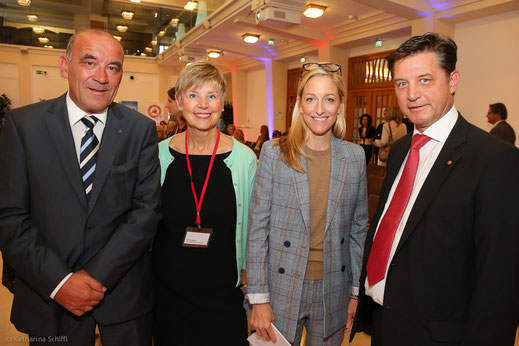 v.l.n.r.: Hannes Reichmann, Head of Corporate Communications, Novomatic Group,  Sally Helgesen, US Leadership Consultant, H.E. Alexa Wesner, Ambassador of the United States of America to Austria, Gerhard Hrebicek Präsident  European Brand Institute, (c) Katharina Schiffl
---
Die von VGN-Geschäftsführerin Anett Hanck moderierte Panel Diskussion zum Thema "Faktor F: Die Wirtschaft wird weiblich!" versammelte das "Who is Who" der heimischen weiblichen Führungskräfte, allen voran IBM Generaldirektorin Tatjana Oppitz, Nestlé Generaldirektor Corinne Gabler, AIT – Energy Department Head Brigitte Bach, Jackie Duff, Coca Cola, Michaela Huber, Senior Vice President  für Corporate Communications & Sustainability OMV AG und REWE International Kommunikationsdirektorin Corinna Tinkler . In der hochkarätigen und lebhaften Diskussion gaben die Panelists  persönliche Erfahrungen auf ihrem Weg an die Spitze ebenso wie Tipps für künftige female leaders  Preis.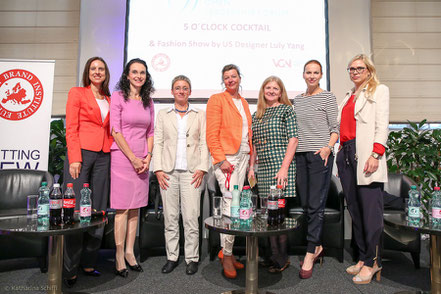 v.l.n.r.: Corinne Gabler, General Director Nestlé Austria, Tatjana Oppitz, General Director IBM Austria, Brigitte Bach, Head of Energy Department, AIT, Anett Hanck, Managing Director CSO, Verlagsgruppe News, Jackie Duff, Strategic Project Director,  Coca Cola Company, Michaela Huber, Senior Vice President Corporate Communications & Sustainability, OMV, Corinna Tinkler, Director Corporate Communications, REWE International AG, (c) Katharina Schiffl
---
PANEL II: "The female age - how to develop women leaders for a global market" Faktor F: Die Wirtschaft wird weiblich!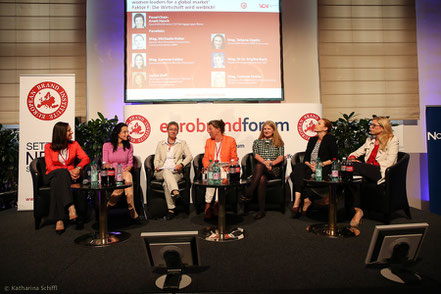 v.l.n.r.: Corinne Gabler, General Director Nestlé Austria, Mag. Tatjana Oppitz, General Director IBM Austria, Brigitte Bach, Head of Energy Department, AIT, Anett Hanck, Managing Director CSO, Verlagsgruppe News, Jackie Duff, Strategic Project Director, Women's Economic Empowerment, Coca Cola Company, Michaela Huber, Senior Vice President Corporate Communications & Sustainability, OMV, Corinna Tinkler, Director Corporate Communications, REWE International AG, (c) Katharina Schiffl
---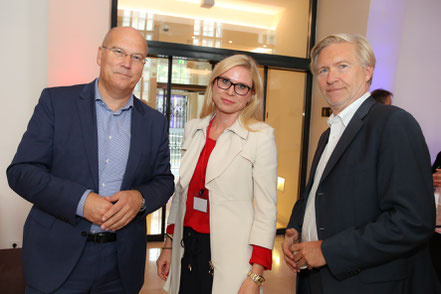 v.l.n.r.: Frank Hensel, CEO  REWE Group, Corinna Tinkler, Director Corporate Communications, REWE International AG, Peter Pelinka, Chief Editor, Verlagsgruppe News, (c) Katharina Schiffl